The list below shows companies offering online payday loans and installment loans in Texas. **Updated October 2th, 2023**
Money Key: In business for over a decade, Money Key is one of the fastest-growing payday lending companies in the small-dollar lending industry. Money Key has funded or arranged loans for over 180,000 customers. They have a fast application process, and you can receive a loan of $1,000 in 1 business day. In addition, there is no pre-payment penalty in Texas for paying off your loan early.
MyPaydayLoan: MyPaydayLoan is an established company that provides online loans. They promise a quick online application process and can usually get you money in less than 24 hours. MyPaydayLoan is generally seen as an excellent company to work with if you have poor credit or no credit. You will need a checking account from a traditional bank(no pre-paid or savings accounts) to be approved. Also, you won't qualify for a loan if you've defaulted on a payday loan in the past year. **Update: Texas residents no longer need to fax a bank statement for loans under $500.**
BadCreditLoans.com: As its name says, a new company that provides access to bad credit payday loans. They aren't a direct lender but connect consumers with a lending company in their network. They offer cash advances of $500 to $1,000 for new customers and installment loans for returning customers. They're great to work with, even for people with poor credit, as you can usually get approved for a same day loan.
MaxLend:: MaxLend offers online direct installment loans of $100 to $3,000 for Texas consumers. MaxLend is a great option if you're looking for a payday lender with no collateral required. This company has no pre-payment penalty and offers loan lengths that max out at about eight months.
Cash Store: Cash Store is a direct lender providing online payday loans in Texas since 1996. They have over 180 storefront locations in TX alone. Cash Store is known for having a straightforward online approval process. Loan amounts go to $3,000; applicants can receive money in hand in less than 20 minutes.
OppLoans: OppLoans provides online personal loans. Per their website, they have funded well over 100,000 loans, and their rates are much lower when compared to traditional payday advances. Their installment loans are offered through a Texas Credit Access Business, and borrowers can qualify for $500 to $2,500 with their first application. Loans are paid back over a term of no longer than six months.
Check Into Cash: You are probably familiar with Check Into Cash as they are a leading provider of payday loans in Texas. They manage many retail locations in San Antonio, Dallas & Houston and have provided direct payday loans & installment loans for over a decade. They can quickly fund online loans for qualified borrowers and use a fully automated 24/7 application process. Check Into Cash is a founding member of the Community Financial Services Association.
My Credit Advance: My Credit is a payday loan company that's been around since 2008. Since then, they've helped thousands of Texas consumers get short-term online loans. My Credit promises a quick online application process for same-day loans of anywhere from $1,000 to $12,000.
Are you having trouble obtaining a loan from the payday lenders and online installment loan companies detailed on this site? Getting a payday loan from any company is tough if you have poor credit or many outstanding cash advance loans. If you fall into this category, you may need to check out 24/7 CreditLoan. They don't offer direct online loans in Texas. Instead, they deal with hundreds of direct lenders willing to provide online funding! Check them out today and see if you qualify with anyone from their network of online loan providers.
Blue Trust Loans: This company is a large lender funding alternatives to online payday loans in Texas. Blue Trust features a 3-step approval process; you can expect a real-time decision on a loan approval in less than 5 minutes. Qualified residents can see quick approval on a loan of up to $3,000. A typical loan term will last anywhere from a few weeks to 6 months. You will also need a checking account with direct deposit from a checking account to qualify.
CashAdvance.com: CashAdvance connects consumers with lenders offering online payday loans to Texas residents. They provide online loans of $500+ for new customers and offer long term financing for returning customers. They're great to work with if you have poor credit, as you can usually borrow a low dollar amount with them. They have a quick cash request process and promise money for qualified consumers the next business day.
Cash Central Loans: Cash Central is a large financial institution that funds 24/7 loans to Texas residents. They have an easy 3-step approval process and you can expect a real-time decision about your payday loan approval with rates and terms in less than 5 minutes. Cash Central funds loans of $2,000 and you can pay off your loan anywhere from 7 to 35 days. Use Discount Code "FB920" for 20% off all direct lending fees when you apply for an online payday loan through 2023!
Upstart: Upstart offers a unique approach to the online lending environment. They provide flexible payment terms with the option to repay your loan over months instead of weeks. Payment terms and finance charges like this compare well to other firms that offer online loans. Another unique option is that applicants can choose their payoff term! Upstart will require an active bank account with a credit score of at least 660 or higher. Upstart is funding online loans of anywhere from $2,500 to $9,500.
Texas Title Loans: This company has offered secured and unsecured loans in Texas for eight years. According to their website, they primarily focus on title loans and provide access to funding for people looking for installment loans in TX. Apply online or at any storefront personal loan offices in Houston and Dallas. Their lending offers may change in Houston and other cities with caps on loan amounts and finance charges. Be sure to check their site information for questions about your money needs. These installment loans are repayable with monthly payments of 12 – 48 months. Qualified applicants will need a fair credit score to approve a personal loan.
Ace: Ace has been funding payday loans throughout the Midwest for years. They have many retail storefronts in Texas as well. They also provide an installment loan of up to $2,000 for qualifying consumers. Ace requires that applicants have an active checking account with an income of at least $1,000 a month to qualify for a payday advance loan.
Check 'n Go: Check 'n Go is undoubtedly one of the oldest online lenders regarding Texas payday loans. They manage over 200 stores nationwide, with dozens of retail locations in Houston and Dallas alone. They also have a simple installment loan application process. Some borrowers can get cash in 24 hours if they qualify for an instant loan. Check 'n Go provides online advances of $255 to $1,500 for Texas residents. The most extended loan term is 40 days and you can only have one loan out at a time.
Cashnet USA: They are a longtime company in our list of lenders that's been around for decades with over 1 million satisfied customers. CashNet is funding instant loans of $255 to $2,500 with a payoff term per their payday loan agreement of 8-36 days. Financing amounts can go up to $2,500 in Texas with a 4-6 month payoff. They're generally seen as easy to work with & you can expect to receive immediate approval when you apply online. CashNetUSA has extended its 15% off loan fees promo through December 2023.
Speedy Cash: Speedy Cash is an online service currently funding 24 hour car title loans and online payday loans. Speedy has same day funding when eligible for loans issued in San Antonio. They may refer some applicants to a third party lender that functions as a credit services organization.
Lendup: Lendup is licensed by the Office Of the Consumer Credit Commissioner as a credit access business. They promise low finance charges with the opportunity to rebuild credit by making on-time monthly payments. LendUp funds installment loans of up to $5,000 in Texas(lower loan amounts in San Antonio and Houston). They also have a 15-minute fast cash deposit option for those who qualify. With this method, you can get your money in as few as 15 minutes, assuming your bank can handle this.
Power Finance Texas: A direct lender that provides Texas payday loans of around $500 and personal loans of $1,400. It seems they offer lower interest rates than other companies offering online cash advances. They provide a quick approval process and a 3rd party credit services organization typically funds a payday advance. Residents are sometimes eligible for discount code savings or flexibility with their rates and terms. Power lets you apply for a loan and set a due date that fits your specific needs. Check their website or contact customer service for more info on their credit check and loan application terms.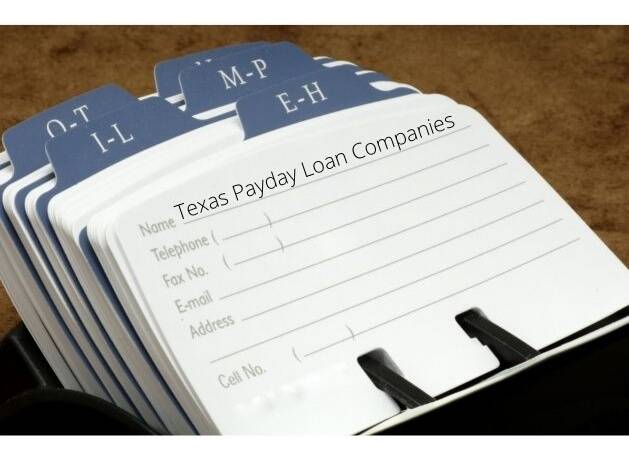 Online Payday Loan Companies In Texas
Check back at least once weekly for updates about these companies that provide payday loans in Texas. Many online visitors arrive from large cities like Dallas, Houston, or San Antonio. These large metro areas have many storefronts that offer loans. But there will always be a need for short term financial information. We've also been seeing an increase in loan applications from smaller cities in the panhandle. So, don't worry if there are no payday loan stores in your city. Many large national lenders choose to offer loans and operate in Texas as Credit Access Businesses under the Consumer Credit Commissioner. They can usually loan more money with better terms than other state loan services. Even people with a terrible rating can qualify! We expect more payday loan companies will start to offer loans again as we move through 2023. This includes installment loan companies and direct lending providers in Dallas, Houston & San Antonio.
Keep in mind, short term loans are not always a responsible financial solution. Online advances have high interest rates, lengthy monthly payments, and large maximum loan amounts. Fees and interest charges will only increase if you fail to pay off the amount borrowed when it first becomes due. Work with a licensed company that follows the deferred deposit transaction law. Read through your contract terms and lending agreement conditions before you move forward with any online payday loan lender. Make sure your loan agreement has your exact loan details and terms.